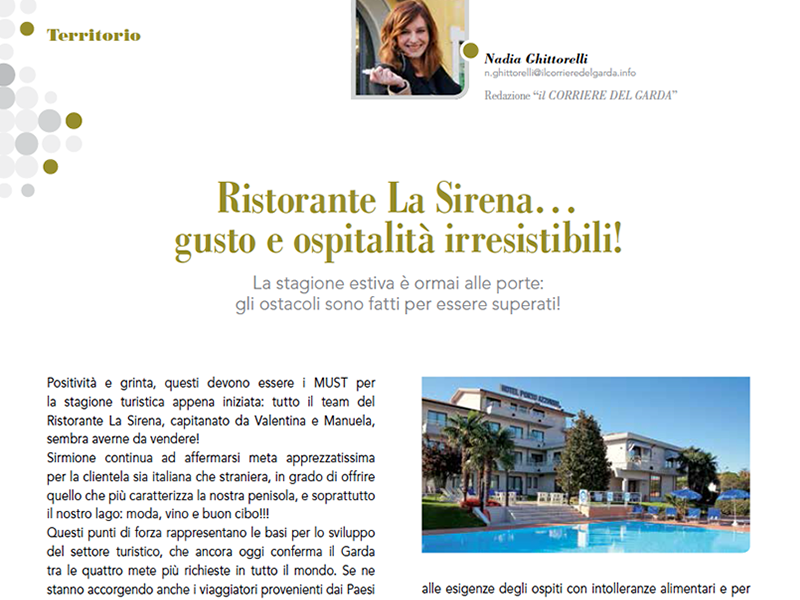 Colombare of Sirmione. Positivity and determination, these must be the MUST for the 2013 tourist season has just begun: the team of Restaurant La Sirena, led by Manuela and Valentina, seems to have to sell!
Sirmione continues to perform well appreciated destination for both business and Italian for foreign tourists who will find exceptional landscapes, great food, friendly hospitality typical of Lake Garda, Italy!
Besides, what is it that attracts the most foreign tourist? Fashion, wine, and before all the good food!
These strengths are the basis for the development of the tourism industry, which sees the Lake Garda as the 4th most popular destination in the world. Even travelers from Eastern European countries are increasingly discovering the benefits of living in this area so prosperous business proposals, wellness, entertainment, sports, cultural, gastronomic, shopping and more are always looking for new ideas for an unforgettable stay.
The Restaurant La Sirena is situated in a convenient yet quiet location and welcomes customers of all nationalities with the warmth and expertise of a young and very prepared.
All out on the sunny terrace you can enjoy fresh pasta, pasta and fish dishes and meat, the famous fried mixed real and appetizing desserts prepared daily by our Chef! All washed down with local wines exclusively led by our fine wine Lugana: choice dictated by the desire to promote all-round excellence of Sirmione and neighbors.
Manuela and Valentina are very sensitive to the needs of guests with food intolerances and for this reason it is proposed that variations GLUTEN Kamut pasta to give the opportunity to all Clients appreciate the specialties offered without "discrimination".
Settling on the sunny terrace a few steps from the lake, you are immediately greeted by smiling and attentive to our needs . It is, therefore, natural to say "Finally!"... Finally a bit ' of positivity and belief that despite the season has started slowly because of the bad weather, despite the economic crisis everyone is talking constantly, there are still operators in the sector who are convinced that everything will be fine and that with dedication and passion you will get great satisfaction for this year.
Do not give up at the first hurdle, but work to overcome it! Obviously it is not easy, but if all the staff working towards the same goal, that is to pamper the customer and offer a professional service, the results will not be long in coming. These are the hopes and assumptions of this group so close-knit and motivated hoping to find more and more support even from the Sirmione.
Manuela and Valentina believe a lot in Social Marketing, excellent communication tool capable of creating a dialogue within everyone's reach and motivate the tourist to interact during and at the end of your stay: post photos, comment, report its current location, search information, see maps and guides... creating a major buzz.
Enthusiasm, Smile and Delight: the perfect formula to be proved!