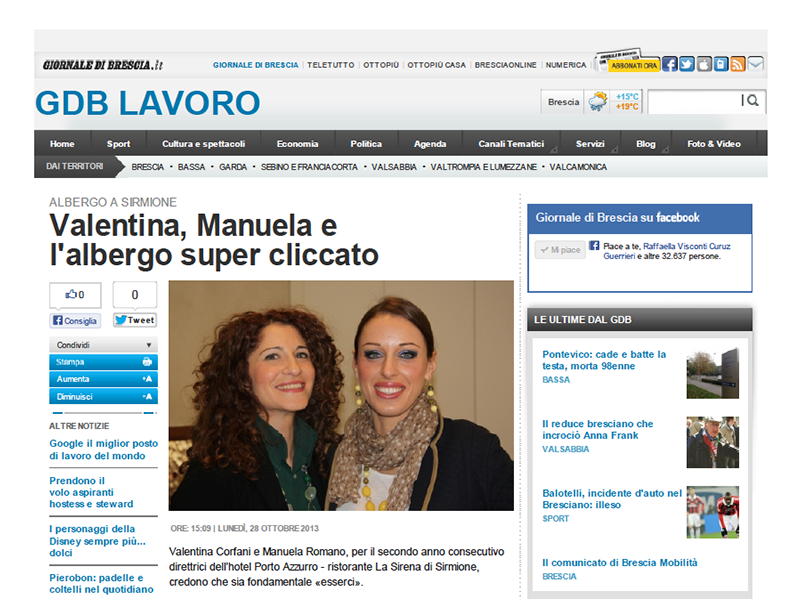 Valentina Corfani and Manuela Romano, for the second year directors of Hotel Porto Azzurro - Restaurant La Sirena in Sirmione, believe it us fundamental "be present".
You must be present in the most important international websites dedicated to the reviews or reservations online and in the social networks, because they are instrument "from which you must take advantage and not to fight" - tell the girls.
Valentina and Manuela have done this - "but we won't give up to perseveres"- actually after some weeks, starting from the 39th position in Tripadvisor the hotel has reached the 14th position in comparison with 67 hotels in Sirmione, the 9th position in Holidaycheck and it has obtained many excellence awards!
These results have been possible «thaks to a strong and skilled staff». Today this tourist industry is always evolving «the client uses many instruments to organize his trip in any details, to compare many hotels, to read and write reviews».
Manuela confirms that in the past «it was different, we had waiting lists to manage, the clients were not informed about the area». Today, at the contrary, «our guests give us some ineresting information and they know events or places we don't know" and "they are well prepared on the offers proposed by the other hotels in order to have precise negotiation. We can say that today the market don't ask only for a nice building, but they look for an impeccable and professional service and a constant support.