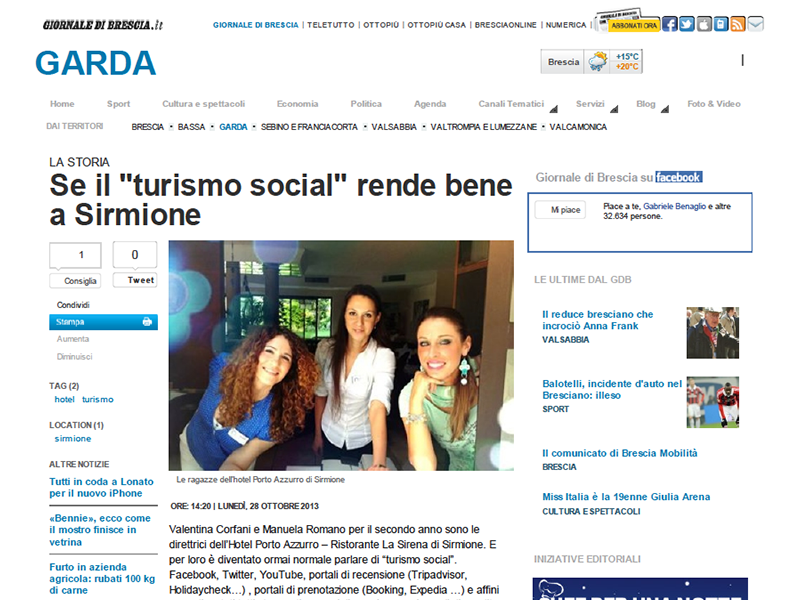 Valentina Corfani and Manuela Romano for the second year are the guidelines of the Hotel Porto Azzurro - Sirmione Restaurant La Sirena. It has become normal for them to speak of "social tourism".
Facebook, Twitter, YouTube, portals review (TripAdvisor, HolidayCheck...), portals booking (Booking, Expedia...) and the like have all become essential tools and real sales channels.
The two girls have focused their work primarily to strengthen the brand reputation of the hotel and restaurant (only last year is also open to non - accommodated) coming to have tangible results. Suffice it to say that in two years, thanks to a team work, have positioned Hotel in ninth place in the ranking of satisfaction among hotels in Sirmione drawn from the main portal of reviews and world 's second largest portal of the German review: thanks to this vision have experienced an increase in demand and a greater confidence on the part of potential Italian and foreign clients.
Manuela and Valentina smile when they explain that most of their guests asking for the password for the Wi-Fi even before you know all the other interesting information to be explored during check in, besides the fact that many of them arrivamno already "prepared" on what the area offers. Technology runs in Sirmione there are those who keep pace.